Highest mountain of North America Mt McKinley(25th U.S. president) renamed as Denali by Obama.
Indian-origin Sikh migrant driver named 'Australian of the Day' for feeding the homeless in Darwin by Commonwealth Bank of Australia.
Australian Minister of Defence, Mr. Kevin Andrews and Minister of State for Home Affairs Shri Kiren signed Bilateral Co-operation in the field of intelligence sharing, combating international terrorism and security .
NASA and US Agency for International Development (USAID) launched a joint project "SERVIR-Mekong" to strengthen regional environmental monitoring -Burma, Cambodia, Laos, Thailand and Vietnam.
Russian spacecraft Soyuz with 1st Danish astronaut launches towards International Space Station-500th manned launch in space travel history.
United Nations General Assembly (UNGA) has approved the draft 2030 Sustainable Development Agenda- 17 goals.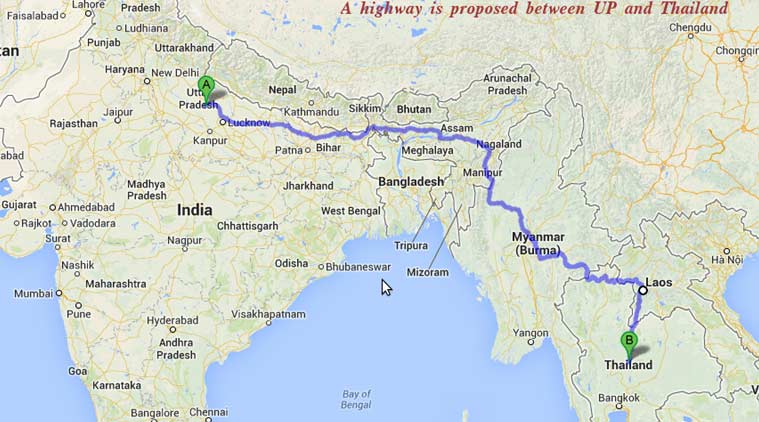 Myawaddy- Thinggan Nyenaung-Kawkareik section (25.6 km long) of the Asian Highway No.1, which links India to Thailand via Myanmar,bus-service between Imphal & Mandalay started.
Canada Entered 1st Technical Recession in 6Years-GDP is 0.5% in Q2(April& June) followed a by a contraction of 0.8% in Q1 (first 3 months), PM Stephen Harper.
Russia rejects France's proposal to limit the use of veto in the UNSC at 70th celebration- Flight MH17.
India, UAE agreed to increase bilateral trade by 60% by Union External Affairs Minister Sushma Swaraj and Foreign Minister of UAE Sheikh Abdullah Bin Zayed Al-Nahyan – $75 billion at 11th session of the India-UAE Joint Commission held in New Delhi.
Akshay Kumar,Hrithik Roshan and AR Rahman join 'Global Goal Campaign' is to create and raise awareness about sustainable development.
G-20(group of 20 major economies) and OECD(Organisation for Economic Co-operation and Development – 34countries) issued a new corporate governance code – Host Leader, Ahmet Davutoğ
Rajavarothiam Sampanthan became 1st Tamil politician to be chosen as the Sri Lankan leader of opposition National Alliance(TNA) in 32 years.
G20 launches W20 grouping for gender inclusive economic growth-1st Summit of W20 (Group of 20 women leaders from G20 nations) will be hosted next month in Istanbul,Turkey-Gulden Turktan,the 1st president of W20.
Indian Ambassador to Nepal, Ranjit Rae inaugurated the renovated Bala Tripura Sundari Devi Temple at Tripurakot located on the bank of glacial river Thuli Bheri in Dolpa district of Nepal.
Chinese and Pakistani forces launched a joint air drill, named 'Shaheen (Eagle)-4' held in Pakistan.
Japan reopens radiation-hit town Naraha after four years – Fukushima Daiichi plant.
India announced a cash assistance of USD 500,000 to Jordan to meet the enormous impact of Syrian refugee crisis – Indian Ambassador to Jordan Anil Trigunayat.
'Ex-Ekuverin 2015′ is the sixth of the at Pangode Military Station, Trivandrum
7 Indians Feature in Forbes Asia's Heroes of Philanthropy List : Infosys co-founders Senapathy Gopalakrishnan, Nandan Nilekani and SD Shibulal,Rohan Murthy another co-founder of Infosys, Entrepreneur Sunny Varkey founder of GEMS Education, Entrepreneurs Suresh Ramakrishnan and Mahesh Ramakrishnan the founders of Whitcomb & Shaftesbury Tailors, Bill Gates and Warren Buffet.
United States and South Korea conduct Joint anti biochemical exercises against Republic of Korea – Able Response (AR) – 15 exercise is the fifth in the series.
An Indian-origin entrepreneur Payal Kadakia, CEO and co-founder of ClassPass has been named among the most promising businesswomen of 2015 by Fortune magazine.
Brit Morin – Founder and CEO, Brit + Co.
Jody Miller – Co-founder and CEO, Business Talent Group
Payal Kadakia – CEO and co-founder, ClassPass
India was among 119 nations that voted in support of a UN General Assembly resolution granting the right to non-member observer States of Palestine. 8 against :Australia, Canada, Israel, Marshall Islands, Federated States of Micronesia, Palau, Tuvalu and the US.
Number of people aged 100 and above has hit 60,000 in Japan in 2015, September
Singapore's ruling party PAP wins 2015 General Elections -56-year grip on power -13th Parliament.
Egypt's PM Ibrahim Mahlab and his cabinet resigned amid corruption probe.
Russian Cosmonaut Genady Padalka(totally 879 days) returned to Earth with a new record for the most time spent in space.Sergei Konstantinovich Krikalev of Russia who spent 803 days.
US based Hindi Sangam Foundation will organize 3rd International Hindi Conference at Rutgers University, New Jersey to promote Hindi in America from March 4-6, 2016.
Indian bankers Chanda Kochhar(1st ) and Arundhati Bhattacharya(2nd) ranked as top two in a list of most powerful women in Asia-Pacific prepared by the global magazine Fortune.
Indian-origin Ashok Sridharan becomes Mayor of Germany's Bonn city.
Pakistan PM Nawaz Sharif inaugurated five 'Pakistan – China Friendship Tunnels' – 275$ million in order to restore a strategic road link to China Via Gilgit-Baltistan.
China builds museum in honour of first nuclear, space scientists on the Huairou campus of CAS University.
Betty Cantrell won the Miss America 2016 Pageant – 89th Miss America.
December 9 declared as International Genocide Commemoration Day – UN
PepsiCo CEO Indra Nooyi (2nd) in Fortune's 50 powerful women in business list.
UN General Assembly adopted a negotiating text for the Security Council reforms, setting the stage for talks on the long pending process at the 70th session of the global body.
India Ranks 142 in Ease of Doing Business Among 189 Economies: World Bank Singapore(1st), New Zealand(2nd) and Hong Kong SAR (China-3rd)
Constituent Assembly of Nepal rejected the proposal to declare Nepal as a Hindu State.
Hungary declares a state of emergency in two countries, shares their border with Serbia.
Yongbyon nuclear plant of North Korea continues operation -manufactured the fissile material – shut down in 2007.
Nepal approves new constitution after 7 years of painstaking efforts and deliberations. It replaced Interim Constitution of Nepal, 2007
India, Cambodia ink 2 MoU for bilateral cooperation in Tourism, Mekong Ganga Project -Vice President Hamid Ansari and Cambodian Prime Minister Hun Sen in Phnom Penh – $50,000
More than 1.3 million people died in South-East Asia, by the consumption of tobacco-WHO
Pentagon established a first-ever country special cell,India Rapid Reaction Cell (IRRC), to speed up its defence ties with India(only) – IRRC is headed by Keith Webster.
National Highway Authority of India (NHAI) set up a separate global body – NHAI International to build roads and highways in Iran, Sri Lanka, Nepal and Bhutan.
4th edition of India-Kuwait Joint Working Group on Hydrocarbons was held in New Delhi – Ashutosh Jindal(Joint Sec),Ministry of Petroleum & Natural Gas and Dr. Ahmad Al-Qattan, representative of the Kuwaiti Oil Sector.
Indian, Chinese firms ink 15 MOUs in the field of Infrastructure, energy, agriculture, IT, electronics and pharmaceuticals worth $590 million at Economic and Trade Cooperation Conference 2015 in Ahmedabad.
India and the US have created a "joint challenge coin to Mark Partnership in Navy. One side of the coin : Forward Together We Go and Chale Chale Saath Saath.
Hotel Price Index (HPI) survey of Hotels.com – Singapore 1st for Indian travelers,Dubai (UAE – 2nd) and Bangkok (Thailand-3rd).
Cow is declared as the national animal of Nepal.
China to open museum with rare Buddhists statues in Hebei -more than 200 statues.
AusIndex-2015, the first ever naval exercise(every 2 years) between India and Australia concluded.
Indian diaspora in the US launched "Mission 2022" in partnership with the Confederation of Indian Industries (CII).
9th Regional Pravasi Bharatiya Divas(RPBD) in Los Angeles,California on Nov 14-15. Theme – "The Indian Diaspora: Defining a New Paradigm in India-US Relationship"
Iranian airline Mahan Air to operate its first flights between Denmark and Iran.
India to invest Rs 1, 00,000 crore in Iran to supply natural gas at $2.95 per mmbtu for urea plant that will set up at Chabahar port on the Persian Gulf.
PM Modi second Indian PM to visit Ireland – Jawaharlal Nehru in 1956.
Ireland support for India's membership of UN Security council
Science and technology and education Cooperation
Direct flight between the two countries
Irish Prime Minister – Enda Kenny ,President – Michael D. Higgins
Mukesh Ambani India's richest for 9th consecutive year: Forbes
Sachin and Binny Bansal (founders of Flipkart) – 86th position
Organisation for Economic Co-operation and Development(OECD) released the International Migration Outlook 2015 – India 4th .
European Union (EU) imposed a provisional anti-dumping duty of up to 31.2% on imports of water and sewage pipes from India for six months.
UN adopts agreement on Sustainable Development Goals(17) for the next 15 years at 70thsession of United Nations General Assembly (UNGA), Mogens Lykketoft – 169 specific targets – USD 3.5 trillion to USD 5 trillion.
First Bhagavad Gita Conference held at the School of Oriental and African Studies(SOAS), University of London, UK.
Nigeria removed from the list of polio endemic countries – WHO.
Indo Sri Lanka Joint Exercise MITRA SHAKTI 2015 began at Aundh Camp Pune – 14days.
Meeting With Ceos Of Fortune 500 :Theme of "Media, Technology And Communications – Growth Story For India".
Modi Addressed UN Sustainable Development Summit – 17 goals – New framework – "Transforming our world: the 2030 Agenda for Sustainable Development"
PM Modi hosted a G-4 Summit with leaders of G-4 nations Brazil, Germany and Japan in New York.
Visit to Silicon Valley & San Jose – Google to provide India a set up base for free Wi-Fi at 500 railway stations.
Startup Konnect was held by NASSCOM in partnership with TiE Silicon Valley and IIM Ahmedabad's CIIE India.
MoU between Centre for Cellular and Molecular Platforms and the California Institute for Quantitative Biosciences, IIM Ahmedabad's Centre for Innovation and Entrepreneurship(CIIE) and Lester Centre for Entrepreneurship of the Haas Business School of the University of California,CIIE and Los Angeles Cleantech Incubator,CIIE and Google, CIIE and Tata Trust.
$2.5-billion helicopter deal of Chinook and Apache was signed.
Foreign ministers of India(Sushma Swaraj), Japan(Fumio Kishida) and the US(John Kerry)held their first trilateral meeting in New York. Japan will participate in the 2015 MALABAR exercise(naval exercise of US & India).
Taliban militants captured northern Afghan city of Kunduz – control a major urban area for 1st time since the 2001 U.S.-led invasion.