CURRENT AFFAIRS FOR JANUARY 2016
Current Affairs for 26 January 2016
NETAJI'S GRAND NEPHEW JOINS BJP
1.Two days after the Centre declassified 100 files relating to Netaji Subhas Chandra Bose, his grand-nephew and convenor of Open Platform for Netaji, Chandra Kumar Bose, on Monday joined the BJP. Mr. Bose, who since 2012 has been leading the movement for declassification of Netaji files joined the BJP at a rally where party national president Amit Shah was present.
2.The 55-year-old economics graduate from London took the BJP flag from Mr. Shah in the presence of senior leaders of the State unit of the party. While speculation is rife that the Bose scion may get the party ticket in the coming Assembly polls,
---
LANCE NAIK GOSWAMI POSTHUMOUSLY CONFERRED ASHOKA CHAKRA
1.Lance Naik Mohan Nath Goswami of 9 Para-Special Forces, who not only killed two terrorists but also helped in neutralising two others while saving the lives of three wounded soldiers in J&K last September, has been posthumously awarded the country's highest peacetime gallantry award, Ashoka Chakra.
2.Defence Service Corps (DSC) sepoy Jagdish Chand, who killed a terrorist after snatching his gun during the Pathankor airbase attack earlier this month before he himself was shot dead by the other terrorists, is among the four to be honoured with Kirti Chakra, the second-highest award, in this year's Republic Day gallantry list. The other three are Subedar Mahendra Singh (9 Para-SF), head constable Rajesh Atra and constable Gautam Koch (posthumous).
3.Four of the 11 Shaurya Chakra awardees have also got it posthumously: Colonel Santosh Yaswant Mahadik (41 Rashtriya Rifles), Naik Satish Kumar (21 Rashtriya Rifles), sepoy Dharma Ram (1 Rashtriya Rifles) and constable Shri Rocky.
4.The other Shaurya Chakra awardees are Major Praphul Kumar Bhardwaj (12 Para-SF), Major Anurag Kumar (9 Para-SF), Major Sandip Yadav (55 Rashtriya Rifles), Lieutenant Harjinder Singh (3 Kumaon), Naik Kheem Singh Mehra (21 Kumaon), Rakesh Kumar Sharma and a civilian Bikramjeet.
---
RAFALE PACT CONCLUDED, BUT NO DEAL YET ON PRICE
1.India and France on Monday signed 14 agreements, including an intergovernmental agreement for the purchase of Rafale fighter jets, nuclear reactors, French railway locomotives and a major commitment to counterterror cooperation.
2.However, while the much-speculated-about Rafale agreement was inked, the financial component of the deal is yet to be finalised, Prime Minister Narendra Modi and French President Francois Hollande disclosed at the end of their three-hour talks here
3.At least three of the 14 agreements signed by India and France on Monday were on expanding space collaboration.
4.The Indian Space Research Organisation and its French counterpart CNES (National Centre for Space Studies) agreed to work together in the next Mars mission, as well as a satellite launch and a thermal infrared observation mission. Under the 'Make in India' banner, India and France signed a deal that will allow French industrial major Alstom to make 800 high horse power locomotives in India. The locomotives are expected to be made in the electric locomotives factory in Madhepura, Bihar.
---
POLICE MEDALS FOR 841
1.Two ITBP personnel were awarded with the police medal for gallantry for putting up a defence against the People Liberation Army of China along the Line of Actual control in the Ladakh region.
2.Constable Subhendu Roy of the BSF who died challenging two terrorists who had attacked a BSF bus in Udhampur district,Jammu and Kashmir, was awarded a PMG posthumously. Two CRPF personnel — constables Suraj Sarjerao Mohite and Satish Kumar — have been conferred the PMG posthumously for thwarting a terrorist attack onthe Rajbagh police station in J&K. The CRPF won the maximum number of gallantry medals — 24— this year. As many as 841 personnel have been awarded police medals on the occasion of Republic Day this year.
---
BRAILLE-EMBEDDED TRAIN TO CHUG OUT OF MYSURU TODAY
1.The Mysuru-Varanasi Express will become the country's first Braille-embedded train. The bi-weekly express (Train No. 16229/16230), which chugs out on Tuesday, will leave Mysuru for Varanasi on Tuesdays and Thursdays.
2.It has been provided with metallic Braille signage indicating berth numbers, location of alarm chains, toilets, and emergency windows. There are also instructions on how to operate the emergency exit windows. The initiative has been financed by Mysuru MP Pratap Simha from the MPLAD fund.
3.Though the Puri-Delhi Purushottam Express was the first train in the country to have a Braille-embedded coach, the Mysuru-Varanasi Express will be the first in the country where all reserved coaches have been embedded with Braille signage, said Rajkumar Lal, Divisional Railway Manager, Mysuru Division, South Western Railway.
---
FRANCE COMMITS €300 MILLION FOR SOLAR ENERGY
1.French President Francois Hollande on Monday committed €300 million (around $325 million or Rs. 2,200 crore) over the next five years for the global development of solar energy and said the real challenge was to attract investments worth a trillion dollars to promote the renewable source.
2.Through this solar alliance, the French President said, he would like to open a new chapter to help give countries with no resources other than the sun an opportunity to produce electricity for meeting the needs of most of their people.
3.The International Solar Alliance, envisaged to bring together 122 countries that lie wholly or partly between the Tropic of Cancer and the Tropic of Capricorn, is an initiative announced by Mr. Modi at the COP 21 Summit in Paris in November. The member countries are to be those that enjoy 300 or more days in a year of bright sunlight.
---
'FRENCH COS MAY INVEST $10 BN IN INDIA OVER NEXT 5 YEARS'
1.French companies are likely to invest almost $10 billion in India in the next five years and a major portion of this will be in the industrial sector making France an important player in the Indian government's Make in India initiative to boost the manufacturing sector, the visiting French Minister for Finance and Public Accounts Michel Sapin said on Monday.
2.He said French firms had invested more than one billion dollars annually in the last five years. The minister said the country's companies account for 10 per cent of solar capacity installed in India and they could increase their capacities by 2020-22.
3.There were over 400 French firms in India with a consolidated turnover of about $20 billion and France was the third largest foreign investor in India.
---
RANE (MADRAS) ACQUIRES US FIRM PDC FOR $8.9 MN

1.Rane (Madras) Limited, a leading auto component company, has acquired the US-based Precision Die Casting (PDC) Inc through its wholly-owned subsidiary in the Netherlands for an enterprise value of $8.9 million. The board, which met here on Monday, approved the acquisition.
2.PDC is in the business of manufacturing high pressure aluminium die-casting for automotive applications like steering and compressor related die-casting components. It has major customers including TRW, JTEKT, Nexteer and Mahle, Rane (Madras) informed the stock exchanges.
3.The deal is expected to be concluded before March 31, 2016. PDC had a turnover of $29 million in 2014-15, the company said.
---
PEN AMERICAN CENTER AWARDS FREE-SPEECH PRIZE TO J.K. ROWLING
1.The free-speech organization PEN American Center says it is giving its 2016 PEN/Allen award to author J.K. Rowling. The prize honors "a critically acclaimed author whose work embodies its mission to oppose repression in any form and to champion the best of humanity."
2.In particular, the award recognizes Rowling's two charitable foundations — Volant, which works to alleviate poverty and social deprivation, especially among women and children, and Lumos, which helps institutionalized children return to family life.
3.Rowling is a frequent target of censorship. In 2006, the American Library Association named her the most challenged author of the 21st century.
---
REPUBLIC DAY 2016: DHIRUBHAI AMBANI, SRI SRI RAVI SHANKAR, RAJINIKANTH IN PADMA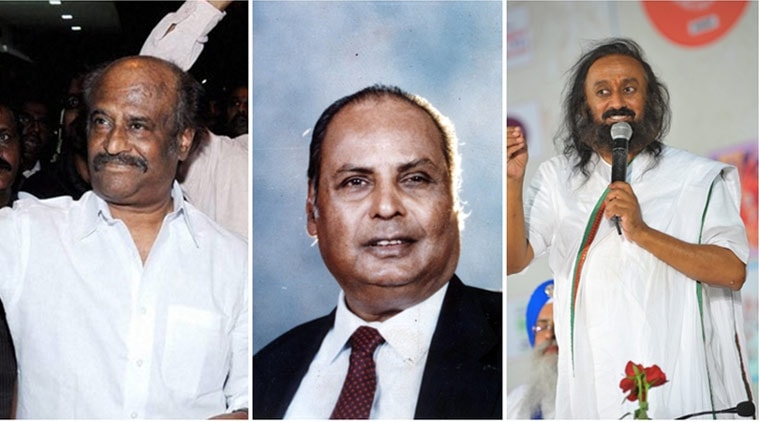 1.Superstar Rajinikanth, founder of the Reliance empire late Dhirubhai Ambani, Art of Living founder Sri Sri Ravi Shankar and media baron Ramoji Rao have been chosen for Padma Vibhushan, country's second highest civilian award, this year. Former Jammu and Kashmir Governor Jagmohan, former DRDO chief V K Aatre, cancer specialist and chairperson of Adyar Cancer Institute Dr V Shanta and eminent Bharatnatyam and Kuchipudi dancer Yamini Krishnamurthi and classical vocalist Girija Devi and Indian-American economist Avinash Dixit have also been named for Padma Vibhushan on the occasion of this year's Republic Day celebrations
---