CURRENT AFFAIRS FOR JANUARY 2016
Current Affairs for 18 January 2016
U.S. LIFTS SANCTIONS; IRAN COMES IN FROM THE COLD
1.The United States on Saturday removed a wide range of sanctions against Iran after International Atomic Energy Agency (IAEA) confirmed that Tehran has met its commitments to roll back its nuclear programme, under an agreement with China, France, Russia, the United Kingdom, the U.S and Germany on July 14, 2015.
2.The removal of sanctions will tremendously help India's plans in Iran, which are many and include the Chabahar port, an Indian Oil petrochemical plant and the proposed Iran–Pakistan–India (IPI) gas pipeline.
3.India's oil imports from Iran have been restricted by the sanctions and the recent forward movement on Chabahar port was accommodated within the exemption granted for projects exclusively serving commerce with Afghanistan.
---
MODI TO OPEN SIKKIM ORGANIC FESTIVAL TODAY
1.Sikkim MPs P. D. Rai and Hissey Lachungpa on Sunday made a recce of Ipecac Garden, Saramsa, and Ridge Park to oversee the preparation for 'Sikkim Organic Festival' to be declared open by the Prime Minister during his visit to the State on Monday.
2.The Prime Minister will visit the organic horticulture at Ridge Park in Gangtok on January 18 and organic agri produce at Saramsa on January 19.
3.While inspecting the venues which the PM is scheduled to visit, the MPs praised the 'Ganesha' made of oranges and a 'Sleeping Buddha' made from organic bananas which would be on display at Saramsa.
4.The MPs also interacted with the participants and appreciated their hard work.
5.Fifty-five farmers from all over the State will display their organic produce during the Prime Minister's visit to Saramsa Gardens on January 19 during which Sikkim will be declared the only organic farming State in the country.
---
DELHI METRO GOES ON A GREEN TRIP
1.In another green initiative, the Delhi Metro Rail Corporation (DMRC) has started a drive of recycling waste paper from its offices.
2.The DMRC on Sunday claimed that in the past five months, since the project took off, it has so far recycled over 8.80 tonnes of waste paper, which has resulted in saving considerable amount of power and water along with curtailing carbon emissions.
3.The DMRC had decided to recycle and reuse waste paper generated from the offices of the Delhi Metro in August last year.
4.The agency then collected the waste paper, recycled them for use and delivered it back to the Delhi Metro authorities. With this initiative, DMRC has been substantially able to reduce the consumption of fresh paper since a bulk of its paper requirements are now fulfilled by recycled waste paper.
---
FORMER SIKKIM GOVERNOR RAMA RAO DEAD
1.Former Sikkim governor and senior BJP leader V. Rama Rao died in Hyderabad on Sunday, after prolonged illness. He was 81.
2.Rao breathed his last at a private hospital, his family said.
3.A former Jan Sangh leader, Rao served as Sikkim governor from 2002 to 2007. Born in Machilipatnam in Andhra Pradesh's Krishna district, he was a lawyer by profession and practised at Andhra Pradesh High Court.
4.He joined Jan Sangh in 1956 and was associated with various trade unions. He was first elected to Andhra Pradesh legislative council in 1966 and re-elected to the upper house in 1972, 1978 and 1984.
5.Rama Rao served as president of BJP's Andhra Pradesh unit from 1993 to 2001.
---
SUSHMA SWARAJ HOLDS TALKS WITH PALESTINIAN COUNTERPART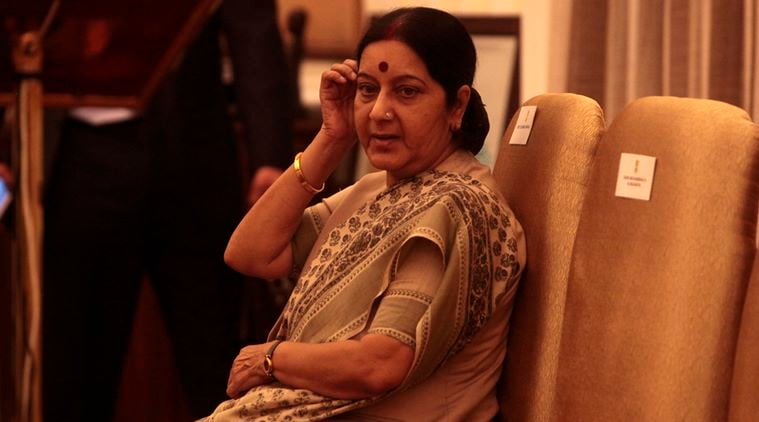 1.External Affairs Minister Sushma Swaraj on Sunday held talks with her Palestinian counterpart as she began first visit to the West Asia region with meetings here aimed at reaffirming India's longstanding commitment to the Palestinian cause.
2.Swaraj was welcomed by Palestine's Assistant Minister of Foreign Affairs for Asia Ambassador Mazen Shamiyeh at the Bituniya Checkpoint as she crossed over from Israel to the Palestinian territory.
3.Soon after her arrival, Swaraj held talks with her counterpart Riyad al-Maliki. She also paid a floral tribute at Mahatma Gandhi's bust here.
4.Swaraj's visit comes three months after President Pranab Mukherjee's historic trip to the region, the first by an Indian Head of State to the region.
5.Earlier, Swaraj was given a red carpet welcome on her arrival at the airport in Tel Aviv last evening by Israeli officials.
---
CHENNAI CANDIDATE EMERGES ALL-INDIA TOPPER IN CA FINALS
1.It was late evening and 23-year-old James John Britto of Chennai was still getting used to the news that he was the All India topper in the Chartered Accountancy exam held in November last. He scored 74.38 per cent with 595 marks on 800. He still has four months of articleship left at Sharp and Tannan before he can take up a job.
2.The Chartered Accountancy examination is considered to be among the toughest academic tests in the country and the overall pass percentage is consistently low.
3.It required planning, strategy and some hard work to achieve this remarkable feat, says Mr. Britto. An alumnus of the Don Bosco, Egmore, he stood State third in class X and would have been ranked sixth in the State but for his choice of second language in class XII.
4.He was a gold medallist in Loyola College and ranked fourth in ACS (company secretaryship), but says, "I wanted to be a CA and will be applying for membership in four months," he says.
---
VARSITY DEAN NOMINATED FOR 'MARQUIS WHO'S WHO'
1.Chennupati Kodanda Ramaiah, Dean, School of Media and Communication at the Pondicherry Central University has been nominated for inclusion in 'Marquis Who's Who in the World' which is a revered biographic reference standard in the world. The nomination is for the 2014 edition of the Marquis Who's Who. The Marquis Who's Who in the World is the standard for reliable and comprehensive biographical data in the world published since 1899.
---
AIR INDIA CHANGES STAND ON 5/20 RULE TO ALLOW PRIVATE AIRLINES TO FLY ABROAD
1.National carrier Air India, marking a major shift in its stance, has dropped its resistance to abolish five years and 20 aircraft norms, also known as 5/20 rule, for Indian carriers to be able to fly abroad.
2.Air India, which is struggling to return to profitability has conveyed to the government in a recent meeting that it will not oppose the '5/20 rule' if it is abolished, a senior AI official said.
3.However, the new airlines — Vistara and AirAsia India — are in favour of scrapping the decade-old rule which is restricting them to fly to international airports from India.
4.This tug of war between the old and the new airlines has put pressure on the Union government to do away with the rule.
5.In fact, the draft civil aviation policy has been delayed mainly due to the government's unclear stand over the '5/20 rule.' The government is evaluating three options — keeping the rule, completely doing away with it or replacing it with a credit-based system.
6.The shift in stand by AI will give more room to the government to abolish the rule thereby helping Vistara and AirAsia India to fly abroad.
7.The present AI management, under its new Chairman and Managing Director Ahwani Lohani, is believed to have told the government in a recent meeting that the 5/20 rule is an "external factor" which will not have much impact over the airline's performance.
---