CURRENT AFFAIRS
CURRENT AFFAIRS FOR 9 MAY 2016
GUJARAT GOVT ACCORDS MINORITY STATUS TO JAINS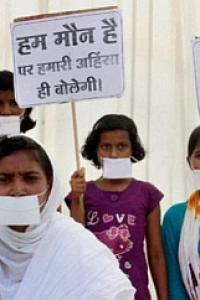 The Gujarat government on Saturday issued a government resolution (GR) giving minority status to the Jain community. Transport Minister and BJP state unit chief Vijay Rupani made the announcement here. The previous UPA government had conferred minority status on the community at the national level in January 2014.
"Chief Minister Anandiben Patel today decided to accord minority status to the Jain community.
8 MAY MOTHER'S DAY IN INDIA
Mother's Day is a day for many people to show their appreciation towards mothers and mother figures worldwide. It is an annual event but is held at different dates in the calendar, depending on the country.
NAVY TO BID ADIEU TO SEA HARRIERS ON WEDNESDAY
The Indian Naval Air Squadron 300, (INAS 300), 'White Tigers' are set to phase out the Sea Harriers fighter aircrafts and make way for new generation of fighters in lieu on Wednesday.
The INAS 300 will thereafter induct the MiG 29K/Kub fighters.
The Sea Harriers are planned to be given a hero's send off during a ceremony presided over by Admiral R.K. Dhowan, Chief of Naval Staff, at INS Hansa, Dabolim in south Goa on Wednesday.
DIGITAL DBT AIDS RURAL JOB SCHEMES
THE GOVERNMENT HAS ELECTRONICALLY transferred more than Rs.61,000 crore in the last financial year to March 30 through the Direct Benefit Transfer (DBT) scheme, Finance Ministry data showed
THE BIGGEST-EVER FIRE SALE OF INDIAN CORPORATE ASSETS HAS BEGUN, TO TIDE OVER BAD LOANS CRISIS
The Reserve Bank of India's (RBI) has decided to clean up the balance sheets of Indian banks, which are collectively saddled with Rs.five lakh crore of bad loans, by the end of this fiscal. So, the banks have started cracking the whip on Indian companies to repay loans. For most affected firms and groups, this means that they will be forced sell prized assets to repay their ballooning debts.
We're seeing 'for sale' tags on airports, roads, ports, steel plants, cement units, refineries, malls, corporate parks, land banks, coal mines, oil blocks, express highways, airwaves, Formula One teams, hotels, private jets, and even status-symbol corporate HQs. Substantial stakes in firms, and in some cases entire companies, are on the block.
ABANINDRANATH'S ICONIC PAINTING TO BE EXHIBITED
Bharat Mata, one of the most iconic paintings of Bengali painter Abanindranath Tagore, will be on display at the Victoria Memorial Hall (VMH) in the city next week.
Bharat Mata, the famous watercolour dating back to 1905 depicts a saffron clad woman, dressed like a sadhvi, holding a book, sheaves of paddy, a piece of white cloth and a garland in her four hands.