CURRENT AFFAIRS
Current Affairs For 5 March 2016
4 States, Puducherry to go to polls between April 4 and May 16
1  It will be a single-day polling in Tamil Nadu, Kerala and Puducherry on May 16, while it will be in six phases in West Bengal and two in Assam.
2Counting of votes in all the States will be held on May 19, Chief Election Commissioner Nasim Zaidi announced on Friday.
3The elections will also see for the first time a symbol, which has been created by the National School of Design, allotted to NOTA (None of the above) that will be placed at the bottom of the list of candidates.
 4He also said following delimitation exercise in Cooch Behar district of West Bengal, 16,000 people who became Indian citizens following of exchange of enclaves with Bangladesh, will be able to cast votes in the polls.
5 The photographs of all candidates will be included along with their name and the symbol on the EVMs. This has been done to eliminate confusion for voters, Mr. Zaidi said.
.
Veteran actor and director Manoj Kumar will be conferred the 47th Dadasaheb Phalke Award for the year 2015.
1The award — conferred by the Centre for outstanding contribution to the growth and development of Indian Cinema
2 The award consists of a Swarn Kamal (Golden Lotus), a cash prize of Rs 10 lakh and a shawl.
3 After making a début with Fashion in 1957, Manoj Kumar got his first leading role in Kaanch Ki Gudia in 1960
4 Manoj Kumar is known for acting in and directing films with patriotic themes. His image as the patriotic hero started with the 1965 film Shaheed, based on the life of Bhagat Singh.
5  After the India-Pakistan war of 1965, then Prime Minister Lal Bahadur Shastri asked him to make a film based on the popular slogan Jai Jawan, Jai Kisan. The result was Kumar's magnum opus and directorial debut, Upkar, which went on to win National Film Award.
6 In 1992,Manoj Kumar was honoured with the Padma Shri.
An Indian-origin Sikh hockey player was honoured in the Canada
1 Assistant deputy speaker of the BC Legislature, MLA Raj Chouhan, honoured 92-year-old Indian field hockey legend Balbir Singh Sr in the House on Wednesday,
2 Balbir Singh has won three Olympic Gold medals in field hockey
3 The first in 1948 in London, winning India's first gold medal as a sovereign nation. He won the second gold in Helsinki.
4 He led his team in scoring, including setting an Olympic / Guinness Record in the final when he scored five goals. That record stands to this day," Chouhan said. "
5 In 1956 in Melbourne he won his third gold medal when he led his team.
6 He scored 22 goals over three Olympic Games.
7 BalbirSingh was the only chief coach and manager to lead India to a World Cup victory in 1975 in Kuala Lumpur, he added.
.
Former Lok Sabha Speaker Purno Agitok Sangma died of heart attack here on Friday. He was 68.
1 He held important portfolios in the Union government.
2 He was also the Chief Minister of Meghalaya from 1988 to 1990 and Leader of the Opposition in the Assembly from 1990 to 1991.
3 He was born on September 1, 1947 in village Chapahati in the picturesque West Garo Hills District of Meghalaya, Sangma struggled hard to rise in life.
4 A Congressman, who was one of the founding members of the Nationalist Congress Party (NCP), was expelled from it in July 2012 when he refused to accept his party's decision to quit the race for India's President. In January 2013, he formed the National People's Party.
Jitu Rai strikes gold at ISSF World Cup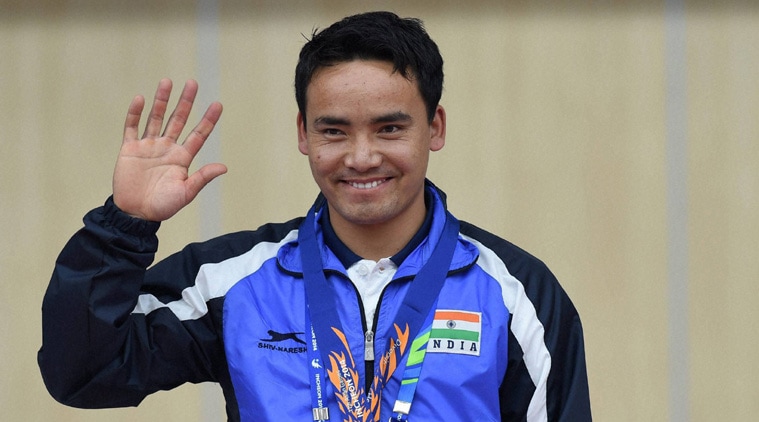 1 Indian shooter Jitu Rai edged past a strong field, including former Olympic champion Pang Wei, to clinch the 50m pistol gold at the ISSF World Cup on Friday.
2 Jitu, beat China's former World and Olympic Champion Wei to second place shooting 191.3 to Pang's 186.5. Wang Zhiwei, also of China and an Olympic Bronze medallist, finished third with a final round score of 165.8