CURRENT AFFAIRS
CURRENT AFFAIRS FOR 4 MAY 2016
DELHI METRO TO JOIN GLOBAL ELITE CLUB BY 2016 END'
With a network spanning over 300 km by this year end, Delhi Metro will join the global elite club of top 10 urban metro rails, a senior Urban Development Ministry official said on Tuesday.
During an event to mark the 22nd Foundation Day of DMRC at Metro Bhawan,  Additional Secretary, Urban Development Ministry D S Mishra said, "It started in 1995 and in these 21 years, it has spanned 213 km. But, let me tell you, by end of this year, you (DMRC) will join the top 10 elite club in the world…Having over 300 km of network, like in Beijing, Shanghai and London."
LILI DAS SETS A NEW MARK IN 1500M
Lili Das of West Bengal smashed the women's 1500m record by close to seven seconds on the opening day of the 14th junior Federation Cup National athletics championship at the Sree Kanteerava Stadium on Tuesday.
The 17-year-old led from the outset and increased her lead with every passing lap to break Haryana's Pinki Kumari's previously-held record (4:27.26s, Chennai, 2014).
MARK SELBY WINS WORLD SNOOKER CHAMPIONSHIP SHORTLY AFTER LEICESTER CITY WINS PREMIER LEAGUE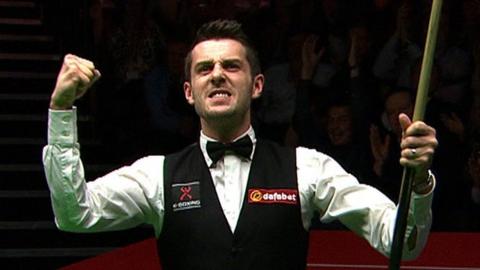 England's Mark Selby has held his nerve in a ruthless display to beat China's Ding Junhui 18-14 and win the world snooker championship for the second time.
BOILING WATER MAY BE FORMING THOSE WEIRD STREAKS ON MARS' SURFACE
The weird, dark streaks that appear and disappear seasonally on the Martian surface may be caused by boiling water, new research suggests. The study, published today in Nature Geoscience, is the first one that tries to explain how exactly water — the key ingredient for microbial life — creates the streaks on the Red Planet.