CURRENT AFFAIRS
Current Affairs for 30 April 2016
GOVT TO MOVE INDO-TIBETAN BORDER POLICE NORTHEAST HEADQUATERS FROM SHILLONG TO ITANAGAR
India has started the process of shifting the North East headquarters of border guarding force, Indo-Tibetan Border Police (ITBP), 500-km from Shillong to state capital Itanagar.
The huge logistical exercise entails shifting of over 2,000 troops and support staff, setting up of communications and border signals, residential logistics and transportation of heavy vehicles, weapons and artillery from Meghalaya to Arunachal Pradesh, both states on the eastern border flank of the country.
Officials said the central government had approved a 175 crore rupees infrastructure package for Arunachal in 2014 which includes deployment of eight fresh ITBP battalions with about 8,000 troops in it, opening of 35 new border roads, 54 border outposts and 72 staging camps along the Line of Actual Control (LAC).
Director general of the ITBP force Krishna Chaudhary confirmed the news to PTI stating the exercise of shifting the North East frontier headquarters from Meghalaya's capital Shillong to Arunachal's capital Itanagar is expected to be accomplished by next month.
---
FINANCE MINISTRY ROLLS BACK MOVE TO PAY 8.7 PER CENT INTEREST ON EPF
The Finance Ministry on Friday backtracked from its attempt to lower the payout on Employees' Provident Fund (EPF) savings for 2015-16 to 8.70 per cent, after a week-long tussle with the Labour Ministry, which had announced 8.80 per cent returns.
This marks the third time, in little over 50 days, that the government has rolled back contentious policy decisions pertaining to retirement savings of the working class.
"The Finance Ministry has agreed and we will be issuing orders for 8.8 per cent interest rate to all employees as early as possible. Ultimately, (following) two rounds of meetings they are fully convinced and we are going ahead with the Central Board of Trustees recommendation," Mr. Dattatreya said.
He added that the labour ministry will "immediately" notify 8.80 per cent interest rate to EPF subscribers.
---
GUJARAT ANNOUNCES 10 PER CENT QUOTA FOR POOR AMONG UPPER CASTES
The Gujarat government Friday announced it will bring an ordinance to provide 10 per cent reservation for economically backward classes (EBC) among upper castes on May 1, the state's Foundation Day. Families that earn less than Rs 6 lakh per year will qualify for the quota.
Senior Gujarat cabinet minister and the state's BJP chief Vijay Rupani made the announcement at the party headquarters after a core committee meeting, attended by BJP chief Amit Shah, Chief Minister Anandiben Patel and senior ministers from the state.
Rupani said the state government is ready to fight a legal battle since the decision breaches the reservation limit of 50 per cent set by the Supreme Court. The state government already provides 49 per cent quota to SC/STs and OBCs.
---
AFTER SALMAN FURORE, IOA APPOINTS OLYMPIC GOLD-MEDALLIST ABHINAV BINDRA AS GOODWILL AMBASSADOR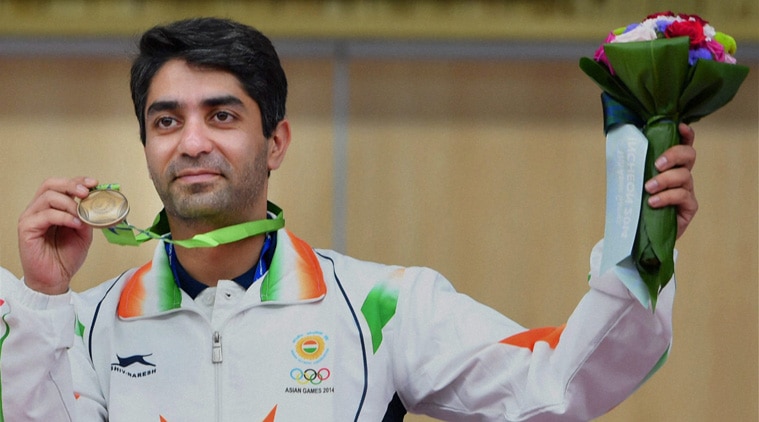 After  the uproar over Salman Khan's appointment as the good will ambassador for the Rio 2016 Olympics, the Indian Olympic Association (IOA) has now roped in shooter and 2008 Olympic gold-medalist Abhinav Bindra as well.
The IOA has also approached Tendulkar and Oscar-winning music composer AR Rahman with a similar offer.
India's first and only individual Olympic gold-medallist, Bindra said he received IOA's invitation on Friday and immediately agreed for the role.
"Received a letter this afternoon from the President and Secretary General of the IOA inviting me to be a goodwill ambassador. I am humbled that they thought I am worthy enough for this honour. I respectfully accept this with gratitude," Bindra said in a series of tweets along with an image of the letter.
---
RELIANCE DEFENCE INKS PACT WITH 3 UKRAINIAN STATE FIRMS
Reliance Defence has signed an agreement with three Ukrainian state-owned firms — Ukroboronprom, Spetstechno Exports and Antonov — to collaborate on a range of military products including transport aircraft, armoured vehicles, maritime gas turbines and unmanned aerial vehicles.
This follows Reliance Group chairman Anil Ambani's meeting with the President of Ukraine Petro Poroshenko in Ukraine this week, where they discussed issues of strategic interest between Indian and Ukrainian Defence and Aerospace industries.
"As a follow up of the meeting, a Strategic Partnership Agreement was signed between State-owned Ukroboronprom of Ukraine and Reliance Defence, which will allow it to collaborate with Antonov for its range of military and commercial transport aircraft," according to statement from Reliance Defence. Reliance Defence is a wholly owned subsidiary of Reliance Infrastructure Ltd., a part of the Reliance Group.
Under the agreement with Antonov, credited as the manufacturer of largest transport aircraft in the world, Reliance and Antonov will jointly bid for the Medium Military Transport Aircraft program of Hindustan Aeronautics Limited (HAL).
---