CURRENT AFFAIRS
Current Affairs for 3 April 2016
JAVADEKAR SAYS INDIA WILL RATIFY PARIS CLIMATE PACT ON APRIL 22

nion Minister for Environment, Forests and Climate Change Prakash Javadekar on Saturday said India, along with 100 other nations, would ratify the COP 21 Global Climate Agreement on April 22 at a high level signing ceremony to be convened at the UN Headquarters in New York.
The agreement, negotiated at the Paris summit in December 2015, sets out a global action plan to put the world on track by limiting global warming below 2 degree Celsius.
Speaking at a symposium titled 'COP 21 – Building Synergies, Shaping Actions' organided by Mumbai University, Mr Javadekar described the Paris agreement as a victory of multilateralism and the one which helped correct image perception of India.
Mr Javadekar said climate change was a reality with one degree rise in temperature caused by 150 years of uncontrolled carbon emission by the developed world. He said India accounted for only 3 per cent carbon emission, while cumulative US contribution was 30 per cent. He said Europe Canada, and other developed world contributed 50 per cent.
---
SHARP ACCEPTS FOXCONN'S TAKEOVER OFFER AND SETS SIGHTS ON OLED SCREENS
NEITHER Apple nor Samsung Electronics has played a visible role in the Sharp takeover battle. But their technological rivalry — and the future of the iPhone — likely has fuelled this fight.
Sharp said on Wednesday it had accepted Foxconn's investment offer of about $3.5bn and that part of this money would go toward developing organic light emitting (OLED) screens.
This next-generation technology is dominated by Samsung, which makes more than 95% of the world's supply of OLED displays, according to Beijing-based display research firm Sigma Intell.
These displays are thinner than the mainstream liquid crystal displays inside iPhones because they do not have a backlight layer, and they can be shaped into flexible designs — think the curved screens in Samsung's Galaxy S6 Edge.
Apple is considering bringing OLED screens to iPhones as early as next year, as it searches for innovative features to revive iPhone sales growth despite the global economic slowdown, according to people familiar with Apple's product roadmap.
And it doesn't want to rely on Samsung, its biggest rival in the smartphone market.
---
U.P. TOPS GROWTH IN ENTERPRISES, JOBS
Among the larger States, Uttar Pradesh has seen the highest growth in enterprises and employment generation over the past decade, outstripping the economically strong states such as Gujarat, Maharashtra and Punjab, according to data from the Sixth Economic Census released by the Ministry of Statistics and Programme Implementation.
Uttar Pradesh has seen a 67.4 per cent growth in the number of economic establishments in the state between 2005 and 2013 compared to a national average of 41.8 per cent. The country's most populous state has fared better than all of the major economic states such as Gujarat (66.3 per cent), Tamil Nadu (15.6 per cent), Karnataka (15 per cent), Maharashtra (47.8 per cent) and West Bengal (41.4 per cent).
Notably, Uttar Pradesh has been placed third in terms of growth in employment (79.4 per cent) over the last decade generated by its economic establishments, significantly ahead of the other states such as Gujarat (65.9 per cent), Maharashtra (37.9 per cent), Karnataka (19.9 per cent) and Tamil Nadu (22.5 per cent). The national average was 38 per cent.
---
GATIMAAN TO RUN FROM APRIL 5
The Gatimaan Express, the fastest train in the country, is all set to begin its run from April 5.
The semi-high-speed train, which has been in the offing for the last two years, is finally being rolled out after numerous trial runs and delays.
It will cover the distance between Delhi's Hazrat Nizamuddin railway station and Agra Cantt. Railway station in 100 minutes, making it the fastest in the country.
The journey currently takes about 180 minutes.
The train (12050/12049), will run between the two stations on all days except Friday, the day when Taj Mahal is closed for tourists.
The inaugural run will will depart from Hazrat Nizamuddin station at 10 a.m. on April 5 and reach Agra Cantt. at 11.40 am.
After the inaugural run in the morning, regular service of the train will begin the same evening on its way back to Delhi.
---
OIL AND INDIAN WORKERS: PM MODI'S PACKED SUNDAY AGENDA IN SAUDI ARABIA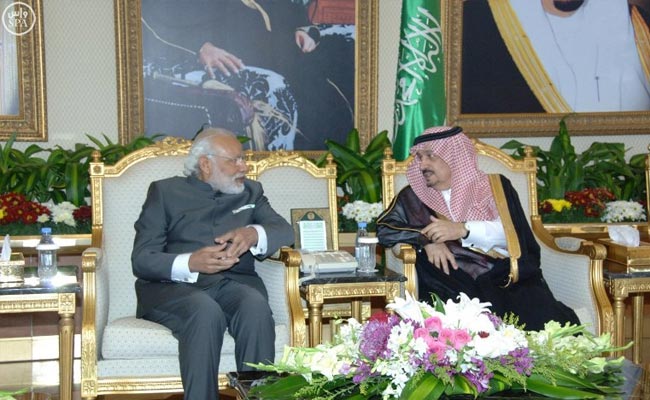 On his first visit to Riyadh, Prime Minister Narendra Modi ended Saturday breaking bread with workers at a residential complex habited by Indian workers who are working on the metro rail in the Saudi capital.
PM Modi's two-day visit to Saudi Arabia, the fourth by any Indian Premier to the Kingdom, comes loaded with symbolism and strategic importance.
Addressing the Indian community Prime Minister Narendra Modi said, "The world is in dire financial crisis. World Bank and other agencies are citing India as a new sign of hope and a new shining star. And it's true that in this dire situation, India has been able to stand through."
---