CURRENT AFFAIRS
Current Affairs for 15 March 2016
MAHARASHTRA SADAN SCAM: NCP LEADER CHHAGAN BHUJBAL ARRESTED BY ENFORCEMENT DIRECTORATE
Former Maharashtra deputy CM Chhagan Bhujbal was today arrested by Enforcement Directorate(ED) in the money laundering case. Earlier in the day Chhagan Bhujbal was interrogated for more than 9 hours today by a team of ED officials. He will be produced before a court on Tuesday.
According to an ED official, the arrest of the former PWD minister was effected under the provisions of the Prevention of Money Laundering Act (PMLA) after he allegedly refused to cooperate during questioning. The agency also recorded his statement in the case.
Nationalist Congress Party spokesperson Nawab Malik criticised the development claiming Bhujbal was innocent, that he had done nothing wrong, and that there was nothing against him. He reiterated that the ruling BJP was allegedly pressurising the investigating agencies.
The ED had registered a PMLA case involving the Bhujbals and some of their associates and has already arrested the ex-minister's nephew Samir last month in the case. The ED had also questioned Bhujbal's son Pankaj in the same case last month.
The agency has filed two FIRs against the Bhujbals and others under the provisions of PMLA, based on Mumbai Police FIRs, to probe the Delhi-based Maharashtra Sadan construction scam and the Kalina land grabbing case.
---
PUNJAB PASSES BILL AGAINST SYL CANAL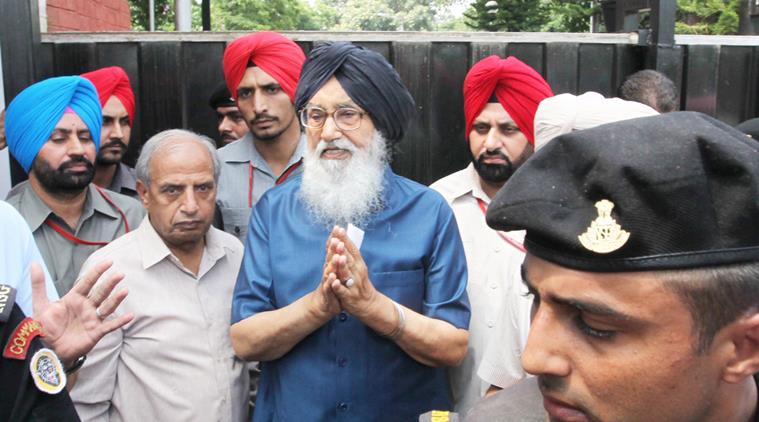 In an attempt to divest its neighbouring State from getting share from Punjab's river waters, the Assembly on Monday unanimously passed a Bill against the construction of the contentious Sutlej Yamuna Link (SYL) canal providing transfer of proprietary rights back to the land owners free of cost.
Leader of the House and Chief Minister Parkash Singh Badal moved the 'Punjab Sutlej Yamuna Link Canal land (transfer of proprietary right) Bill' "to provide for transfer of proprietary rights to the land owners from whom the land was acquired by the State government for the construction of SYL."
---
RS.1,090-CR. DEFICIT BUDGET TABLED FOR MEGHALAYA
Meghalaya Chief Minister Mukul Sangma on Monday tabled a Rs.1,090-crore deficit State budget for 2016-17, withdrawing exemptions on diesel and petrol and hiked VAT on liquor from 20 per cent to 30 per cent, with an aim to raise additional revenue.
Mr. Sangma also announced creation of four new Community and Rural Development blocks and equal number of civil sub-divisions and 15 new police stations, nine in the militancy-hit Garo Hills region, as measures to improve administration and law and order situation.
Estimating the total receipts at Rs.10,173 crore from Rs.9,282 crore last year, the Chief Minister said revenue receipts were estimated at Rs.8,981 crore and capital receipts at Rs.1,192 crore.
In 2015-16, the State's own tax and non-tax revenue was estimated at Rs.1,347 crore, which was projected at Rs. 1,735 crore for next fiscal, he said.
The revenue shortfall was due to the shrinking of resource based on account of the National Green Tribunal ban on coal mining, Mr. Sangma said.
The total expenditure was estimated at Rs.10,507 crore, excluding repayment of loans and other liabilities, of which revenue expenditure was estimated at Rs.7,621 crore while capital expenditure at Rs.10,103 crore, he said.
Stating that the fiscal deficit has gone beyond "comfortable limits" due to the NGT ban on coal mining, Mr. Sangma said the debt-GSDP ratio was well within the 31.7 per cent target set by the 13th Finance Commission.
Spelling out measures to generate additional resources, he said the government proposed to withdraw the remaining rebate of Rs.56 paise per litre on petrol and enhance the VAT rate on the fuel from 20 to 22 per cent.
---
KANPUR METRO DPR APPROVED BY CABINET; POLICIES FOR OLD PEOPLE
The Uttar Pradesh Cabinet on Monday approved the detailed project report of the 32 km-long Kanpur Metro project.
It also gave nod to a slew of policies for senior citizens and free-of-cost dialysis facilities for the poor at 18 divisional headquarters of the State.
The Kanpur Metro project, as on August 2015, is estimated to cost Rs. 13,721 crore and two corridors have been proposed in it spanning 31 stations, an official spokesman said.
At a meeting presided over by Chief Minister Akhilesh Yadav, the State Cabinet approved the Detailed Project Report (DPR) of the metro project prepared by RITES, he said.
It also approved the U.P. State Senior Citizen's Policy that seeks to safeguard the interests of the aged by setting up old-age homes where 25 per cent seats will be reserved for the BPL category people, the spokesman said.
The government has also decided to increase its share by Rs. 100 in the old-age pension following which a revised pension of Rs. 400 will be payable from April 1, he said, adding, a helpline will also be set up for the benefit of old people.
Besides imparting literacy to the aged illiterate, the senior citizen's policy also aims at providing modes of entertainment to them.
A senior citizen welfare fund with contributions from private companies, trusts and individuals has also been proposed, which would be tax-free. The fund will initially be set up by the State with a corpus of Rs. 5 crore.
---
TELANGANA BUDGET OF RS. 1.3 LAKH CRORE FOCUSSES ON IRRIGATION, DRINKING WATER
In sharp contrast to previous years, when non-plan expenditure used to be higher than plan expenditure, Telangana Finance Minister Etela Rajender on Monday presented the third budget with an outlay of nearly Rs. 1.30 lakh crore for 2016-17, with a plan expenditure of Rs. 67,630 crore and non-plan amount of Rs. 62,785 crore.
The size of the budget is Rs. 30,000 crore more than the revised estimates for 2015-16 and Rs. 5,000 crore less than that of Andhra Pradesh for 2016-17.
Mr. Rajender defended the higher plan expenditure saying it was "unprecedented" and done without compromising on non-plan commitments by a combination of rationalisation of expenditure and resource augmentation.
As part of rationalisation of expenditure, he explained that a number of plan schemes with similar activity had been clubbed together in a number of departments and a few schemes with only salary component had been shifted to non-plan.
To augment resources, 'Mission Bhagiratha' and double bedroom housing were proposed to be funded entirely from extra budgetary resources. Hence, no provision was made under plan for these schemes, except counterpart funding.
---
INDIA, MALDIVES TO FINALISE PACT TO FIGHT ISLAMIC STATE
The mechanism between the two countries will go beyond intelligence sharing
India and the Maldives are in the process of finalising a "cross-border counter-terror mechanism" to deal with radicalisation, and to tackle the spread of citizens trying to join the terror group, the Islamic State, in particular, a senior Maldivian official said on Monday.
Explaining that the mechanism between India and the Maldives would go beyond "intelligence sharing," Maldivian High Commissioner to India Ahmed Mohamed said, "There is a discussion between the Indian government and the Maldives on establishing a cross-border mechanism to address this issue and already the Maldives has institutionalised the process."
---
BHRIGUVANSHI POWERS ONGC TO TITLE
A stellar show by Vishesh Bhriguvanshi helped ONGC (Dehradun) stop a spirited IOB (Chennai) in the men's final of the Federation Cup basketball tournament here on Monday.
Bhriguvanshi (20 points, 9 rebounds) took over late in the third-quarter just as IOB (Chennai) was beginning to get into the groove. With IOB up 53-51, Bhriguvanshi converted two exceptional layups in transition, and from this point on, ONGC never lost faith.
The first 10 minutes, however, witnessed one-way traffic.
Troubled by Yadwinder Singh's energetic defence, IOB stared at a huge 27-5 deficit at the end of the first-quarter, but staged a valiant comeback to narrow the lead to 31-26 at half-time.
After the restart, both teams ran neck-and-neck, before Bhriguvanshi carried ONGC to a fourth-straight Federation Cup title.
---
EUROPE-RUSSIA MISSION BLASTS OFF ON HUNT FOR LIFE ON MARS
Baikonur (Kazakhstan) (AFP) – A joint European-Russian mission aiming to search for traces of life on Mars blasted off on Monday for the start of a seven-month unmanned space journey to the Red Planet.
A Proton rocket carrying the Trace Gas Orbiter to examine Mars's atmosphere and a descent module that will conduct a test landing on its surface launched into an overcast sky at the Russian-operated Baikonur cosmodrome in the Kazakh steppe at 0931 GMT.
The spacecraft carried out a series of engine burns to get it onto the right trajectory to Mars and is set to finally detach from its Briz-M rocket booster just after 2000 GMT before beginning its 496-million-kilometre (308-million-mile) voyage through the cosmos.
The ExoMars 2016 mission, a collaboration between the European Space Agency (ESA) and its Russian equivalent Roscosmos, is the first part of a two-phase exploration aiming to answer questions about the existence of life on Earth's neighbour.
The Trace Gas Orbiter will examine methane around Mars while a lander dubbed Schiaparelli will detach and descend to the surface of the fourth planet from the Sun.
---