NOVEMBER CURRENT AFFAIRS
Current Affair Updates for 28 November,2015
CONSTITUTION IS OUR HOLY BOOK: MODI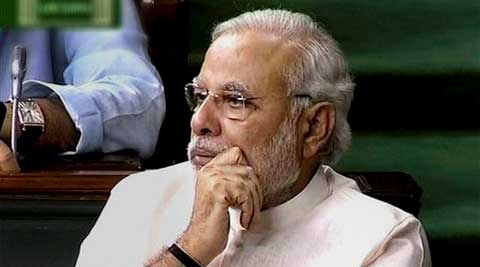 Prime Minister Narendra Modi told Parliament on Friday that the religion of the government was "India first" and the Constitution its "holy book." Mr. Modi's address in the Lok Sabha came as part of the commemoration of the Constitution to mark the 125th birth anniversary year of the chairman of its drafting committee Dr. B.R. Ambedkar and happened to coincide with a debate on "intolerance" and secularism outside Parliament.
---
SOA UNIVERSITY GETS A GRADE FOR SECOND TIME
Students and faculty members of city-based Siksha 'O' Anusandhan University (SOAU) broke into jubilation with the National Assessment and Accreditation Council (NAAC) accrediting the university with 'A' grade for the second time in succession.SOAU, a leading institute in eastern India, was conferred the deemed university status by the Ministry of Human Resources Development on July 17, 2007.The university boasts of schools of diverse disciplines such as engineering, medicine, dental sciences, and pharmaceutical sciences including biotechnology, management, hotel management and nursing. Law and agriculture faculties are also rapidly coming up.
---
WORLD-CLASS ART GALLERY TO COME UP IN DEHRADUN
A world-class art gallery is being built in the Dehradun to showcase and preserve the state's natural and cultural heritage.After laying the foundation stone of the state's first art gallery at the MDDA complex near Clock tower Chowk here, Chief Minister Harish Rawat said it will not only help showcase the natural beauty of the state and its rich cultural heritage but also bring art lovers of the state on a common platform.Being built over an area of 5,000 square feet at an estimated cost of 1.25 crore, construction of the art gallery will be completed in four months.
---
PROTEIN FROM CAMEL CAN FIGHT INFECTIONS
Eminent scientist T. P. Singh on Friday said that the anti-bacterial properties in protein obtained from camel and pork loin can be used in the treatment of human infections.Prof. Singh, biotechnology research professor from the All-India Institute of Medical Sciences, New Delhi, said the potent anti-bacterial properties of proteins from the "innate immune system" of animal species like camel can be used for therapeutic use in humans.
---
SUNDARBANS TO BECOME A DISTRICT IN 2016
West Bengal Chief Minister Mamata Banerjee on Friday announced Sundarbans, the world`s largest mangrove forest, will become a separate district next year. The Indian part of Sundarbans is estimated to cover an area of about 4,110 square kilometres of which about 1,700 square kilometres is now under South 24 Parganas district.
---
FOUR-NATION CONNECT IN FRIENDSHIP CAR RALLY
The four-nation — Bangladesh, Bhutan, India and Nepal (BBIN) — friendship car rally reached Tripura on Friday.The 19-day journey will conclude in Kolkata on December 1. The rally will be flagged off on Saturday morning at Agartala for its final destination after a halt in Bangladesh.20 small vehicles carrying delegates from the four nations entered Tripura through Churaibari at 2 p.m. The rally got underway at Bhubaneswar on November 14 to follow the routes described in BBIN-Motor Vehicle Agreement signed between the countries at Thimphu in June last to create capable, safe and environment friendly transport in south Asia.
---
BILLIONAIRE UNVEILS BICYCLE THAT GENERATES ELECTRICITY
Billionaire philanthropist Manoj Bhargava unveiled a bicycle that produces electricity when pedalled and the product, named Free Electric, aims to help solve problem of electricity shortage in the country, particularly rural areas.The U.S.-based billionaire plans to make 10,000 bicycles, which is expected to be in the price range of Rs.12,000-Rs.15,000, in India by March 2016.
---
ISRAEL TESTS HI-TECH SURFACE-TO-AIR MISSILE CO-DEVELOPED WITH INDIA
For the first time, the Israeli military has successfully tested from a ship an advanced surface-to-air missile co-developed with India which will be deployed to secure vital offshore assets like gas fields. The Barak 8 was tested from a ship for the first time and intercepted a small drone simulating an enemy craft. The missile is being jointly developed by the Defence Research & Development Organisation (DRDO), Israel Aerospace Industries (IAI), Israel's Administration for the Development of Weapons and Technological Infrastructure, Elta Systems, Rafael and other companies.
---
HSBC TO EXIT PRIVATE BANKING BUSINESS IN INDIA BY MARCH'16
Global banking major HSBC today announced shutting down of its private banking business in India that offers wealth management services. Some 70 people working in the division headed by Shantanu Ambedkar will now be absorbed into the retail bank.
---
GURGAON TRAFFIC POLICE WIN URBAN MOBILITY AWARD
Gurgaon and Bhopal Traffic Police have jointly won the Ministry of Urban Development's Urban Mobility India Award, 2015 for Best Initiative for Improved Road Safety.Gurgaon police was awarded for their Let's Talk about Road Safety campaign while in the case of Bhopal it was Behtar Traffic-Behtar Bhopal. Babul Supriyo, Minister of State for Urban Development,  gave away various Urban Mobility Awards .
---
INDIA CONQUER SOUTH AFRICA IN NAGPUR TO END DECADE-LONG TEST JINX
A widely followed Test series finally saw some contest, but it came too late in the script for South Africa as the target of 310 proved too steep a mountain to climb on a challenging track. In the end, the Nagpur Test finished as another three-day affair, with another five-for from R Ashwin taking India to a 124-run win and in the process end a 10-year wait to beat South Africa in a Test series.
---